Eco friendly Bed and breakfast
Dear Guest
Here on the farm we have been Earth Friendly for generations. We have been honored with the top award from NC Green Travel and Trip Advisor's Green Leaders program.
We hope you will help us by recycling while you are here – We can do aluminum cans, metal cans, plastic and cardboard. If you will put this under the sink we will gather it up. (We have a friend who makes some extra money recycling metal, so we give this to him)

Much has been written about Big Mill and the surrounding area, including a Washington Post article on "Green Choices" which included the above photo of innkeeper Choe Tuttle hanging bed linens to line-dry.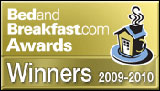 On three different occasions, Big Mill was honored with awards from the leading online B&B directory, BedandBreakfast.com. In 2009-2010, we were named one of the "Best in the South" based on reviews posted by guests during the year. In 2008-09 we were named one of the top "Innkeepers of the Year"; and in 2007-2008 we received the "Best in the South" award.

The August 2017 print issue of Our State Magazine has a great article about Big Mill.
Another Our State online article has a story about Williamston; this also includes another feature about Big Mill.
ABC News/Go featured Big Mill in their international list of "10 Eco-Friendly Inns for Earth Day" on April 21, 2014.
Big Mill is one of the 21 North Carolina Inns featured in Our State's INNS, a full-color publication of "perfect places to stay" (view PDF)
North Carolina Bed and Breakfast & Inns awarded Big Mill the 2010 'Inn of the Year'.
About.com Bed and Breakfasts by Elizabeth Arneson. January 25, 2010. B&B Guide Michael Franco featured our Cranberry Liqueur recipe (March 2013), our Springtine Suet recipe (April 2013) and our Pumpkin Bread recipe (January 2014).
Her Magazine in the Success section February, 2010
TasteSpotting.com and FoodGawker.com, 2009. Numerous Big Mill recipes have been featured, including Chloe's Pecan Cranberry Granola.

On NPR's Weekend Edition (12/22/2012), Scott Simon interviewed innkeeper Chloe Tuttle on her recipe for making Snow Cream. Listen here.
Fox News, Detroit, 'Threw a Dart'
On their morning show, the Fox News station in Detroit, Michigan 'threw a dart' and hit Williamston. They called our local Tourism office and ended up speaking with our own Barney Conway (Chloe's nephew).
Atlanta Journal Constitution, May 12, 2008 "Offering Green Comfort", Living Green section Read
Washington NC Daily News April, 2008
"Williamston Bed and Breakfast Voted One of the Ten Best Eco-Friendly Inns"
Her Magazine (Daily Reflector) May, 2013 – selection of Big Mill original recipes. Read
Eastern Living Magazine did and in depth story about Big Mill B&B Fall, 2012
Washington Post July 18, 2007 "Escape Keys" article on Roanoke River Paddle Trail Read
The Enterprise newspaper in Williamston, NC "Eastern North Carolina Bed and Breakfast wins Earth Friendly award". 4-22-08
Philadelphia Inquirer, July 22, 2007. Picked up the Post story.
CarolinaLiving.com featured Chloe's Fig Bread with Grand Marnier recipe in 2014.
Taste Spotting 2013 Big Mill's Peeps recipe.
Think Tasty Big Mill's Peeps on parade recipe

Bird Friendly Business — a special designation awarded by the NC Birding Trail for businesses that promote birding