Above photos by Guy Livesay
North Carolina Bird Friendly Bed and Breakfast
We are thrilled to have been chosen as a Birder Friendly Business associated with the North Carolina Birding Trail.
We actively participate in the Birder program supported by Audubon North Carolina, NC Wildlife Resources Commission, NC Sea Grant, North Carolina Cooperative Extension and US Fish and Wildlife Service.
There are nine designated birding site trails in Martin County, all near Big Mill.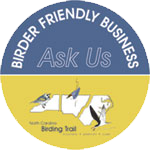 We have a vast diversity of birds here on the farm, both migratory and some who winter here. Our eco friendly practices entice many birds. We have a healthy food supply and birds love our organic pecans, sunflowers, pears, and especially the blueberries.
Northeastern North Carolina also has an abundance of migratory waterfowl. For birders who want to see the Tundra Swans, Lake Mattamuskeet and the Pocosin Lakes are an easy drive.
Bird watching is fascinating and we are anxious to learn from our Birding Guests. With our abundant food sources, our lakes and the diversity of habitat of fields and barns we offer safe haven to migratory birds and all birds that choose to visit or make Big Mill their home.
We feed our birds all year and we make our own suet.
For more information about birding in North Carolina, visit these web sites:
Big Mill's Birds
Over a two day period in April, 2015, veteran birdwatcher W. S. Birkhead either observed or heard the calls of more than 45 species in and around the Big Mill farmstead.
Between 10 and 20 individuals seen and/or heard
Canada Goose
Turkey Vulture
Red-bellied Woodpecker
Purple Martin
Barn Swallow
Carolina Wren
White-throated Sparrow
Common Grackle
Chipping Sparrow

Northern Cardinal Fewer than 5 individuals seen and/or heard
Mourning Dove
Downy Woodpecker
Northern Flicker
Pileated Woodpecker
Great-crested Flycatcher
Red-eyed Vireo
Blue Jay
American Crow
Fish Crow
Carolina Chickadee
Tufted Titmouse
Brown-headed Nuthatch
Blue-gray Gnatcatcher
Ruby-crowned Kinglet
Eastern Bluebird
Wood Thrush
American Robin
Northern Mockingbird
Brown Thrasher
European Starling
Northern Parula
Yellow Warbler
Yellow-rumped Warbler
Pine Warbler
Prairie Warbler
Prothonotary Warbler
Louisiana Waterthrush
Kentucky Warbler
Eastern Towhee
Summer Tanager
Red-winged Blackbird
Eastern Meadowlark
Brown-headed Cowbird
House Finch
American Goldfinch
House Sparrow