Ingredients
1 lemon, washed and sliced crosswise (an orange may be substituted for the lemon)
A 2-liter bottle of lemon-lime soda, use half for ice ring and reserve remainder for punch
1 large watermelon, chilled
1 6-ounce can frozen orange juice concentrate
3/4 cup sugar or to taste
Step-by-step
Slice the lemon and arrange in a circular ring mold pan. Fill with one liter of the lemon-lime soda. Freeze.
Cut watermelon into halves. Scoop out pulp and place in blender, seeds and all.
Blend for several seconds on medium speed. Strain through fine sieve colander, squeezing out juice.
Place watermelon juice in large container with lid. Add orange juice concentrate and sugar and stir until sugar and orange juice are dissolved. Chill until ready to serve.
When ready to serve, pour watermelon mixture into a clear glass or plastic punch bowl. Add the remaining liter of lemon-lime soda and stir. Place ice ring in the punch bowl and serve.
Yield
Serves 20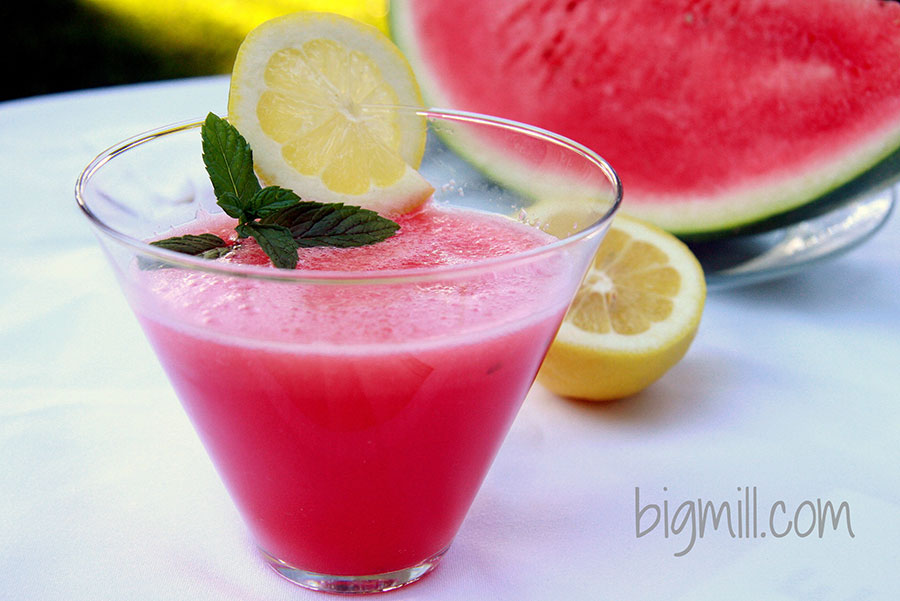 Serving Suggestion
This punch is a gorgeous red, so be sure to serve it in a clear glass or plastic container
Summertime and
Watermelon Punch
Summertime and watermelons just go together. When I was growing up on the farm my father had three rows of watermelons that were at least a city block long. In July and August we would drive the pickup truck into the field and load all the watermelons into the truck bed. We brought them back to the house and laid them in the shade of the pecan trees. Every afternoon, we would stop work and come and cut a watermelon, eat what we wanted and then take the remains to the cows and the mules. My mother said we couldn't give the chickens watermelons because it hurt their faces. I am still trying to figure what she meant by that. I can only surmise that the chickens would peck and peck and hurt themselves, but I will never really know.