Ingredients
2 large eggs
1/2 cup canola or vegetable oil
1 1/2 cups sugar
1 cup cooked, unsweetened canned pumpkin (good brand)
1 1/2 cups self-rising flour
1/2 teaspoon ground cloves
1/2 teaspoon ground cinnamon
1/2 teaspoon salt
3/4 cup shredded, sweetened coconut (reserve 1/4 cup for topping)
1/2 cup chopped pecans or walnuts
Step by Step
Preheat oven to 350 degrees. Grease four mini bread pans (5 3/4" x 3") using cooking spray with flour like Baker's Secret.
Whisk eggs in large mixing bowl. Add oil, sugar and pumpkin. In another mixing bowl stir together the flour, cloves, cinnamon, salt and 1/2 cup of the coconut. Add the dry mixture to the pumpkin mixture and stir. Stir in the chopped pecans.
Pour batter into greased loaf pans, filling about 3/4 full. Sprinkle with the reserved coconut. Bake for 25-35 minutes until lightly browned or until a straw inserted into the center comes out clean. Cool on wire racks for five minutes. Remove bread from pans and continue to cool on wire rack.
* Note: If using all-purpose flour, add 1/2 teaspoon baking soda and 1/4 teaspoon baking powder.
Bread will keep fresh for several days if stored in plastic wrap.
Yield: 4 small loaves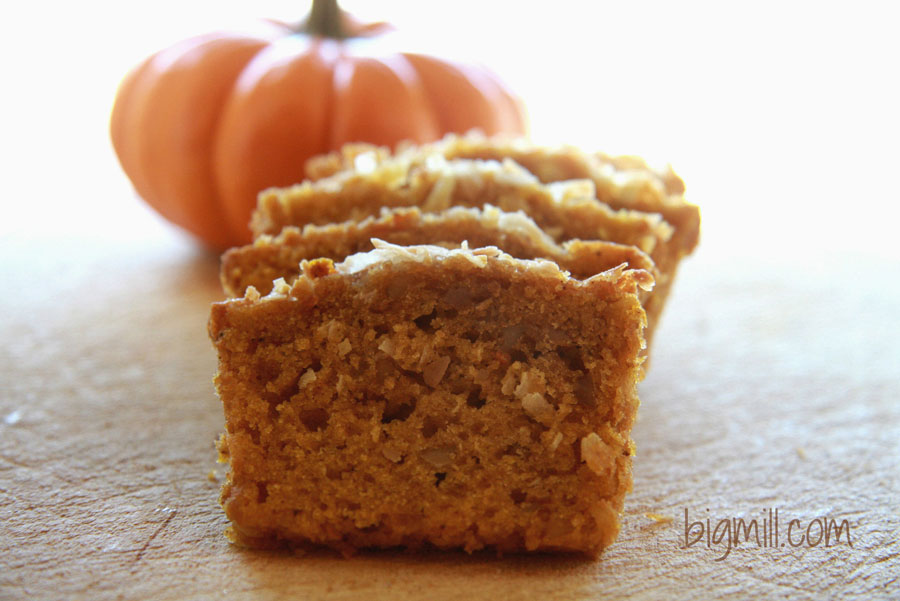 Canned pumpkin is just better than most of the pumpkins that are sold in stores. If you can find a farmer who grows the old pale pumpkins, then they are tasty.
This Pumpkin coconut bread recipe from NC innkeeper Chloe is great for holiday baking.