Ingredients
1-1/2 pounds of small cucumbers (or 1 long English cucumber)
Bowl of ice water
1 small sweet onion, like Vidalia
1/2 cup sour cream
3/4 cup white vinegar
2 Tablespoons sugar
Salt and Pepper
Step by Step
Wash the cucumbers and slice into 1/4" rounds. If the skins are tough, peel. Soak the cucumber slices in a bowl of ice cubes and water until you are ready to serve.
Peel the onion and slice into thin rings. Set aside in the refrigerator until ready to serve.
In a small mixing bowl, whisk together the sour cream, vinegar and sugar. Set aside. This can be done ahead and kept in the refrigerator.
Just before serving, drain the cucumbers. Place cucumbers and onions in a serving bowl. Toss to mix.
Pour the dressing over the cucumbers and onions and stir. Do not totally cover the cucumbers with the dressing, cucumbers and onions should not be floating.
Sprinkle with salt and pepper.
Serve immediately.
Yield: serves 4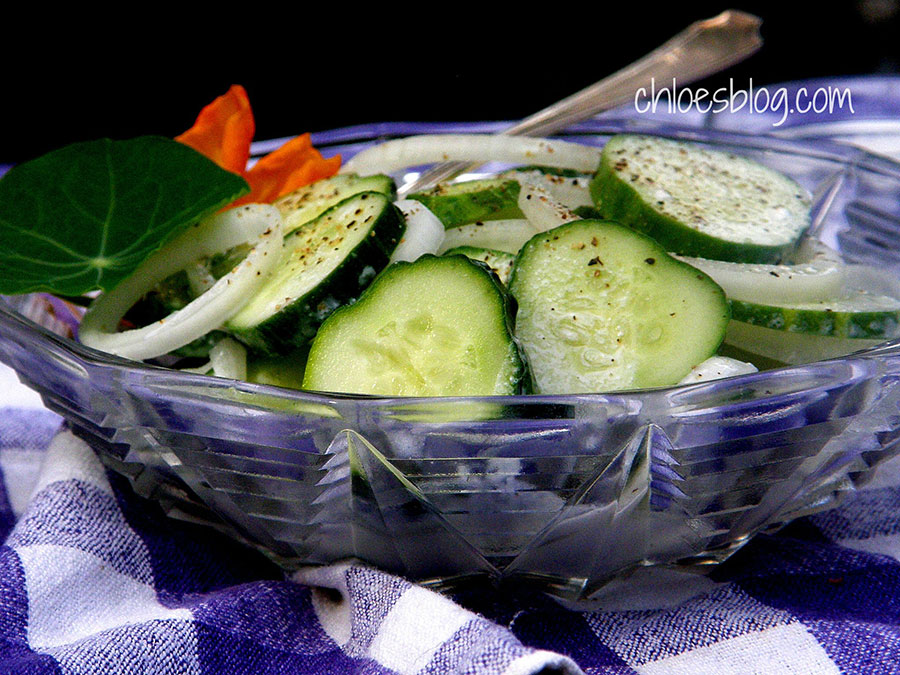 This recipe works great with pickling cucumbers and the long green 'burpless' or English cucumbers.
Note: if this salad is too tart, add more sugar or a few ice cubes.