Ingredients
1 cup water
2 cups sugar
2 cups fresh cranberries *, washed and picked through, discarding bad berries
1 Tablespoon grated orange rind
1 Tablespoon frozen orange juice concentrate
2 cups Vodka (if you prefer a stronger alcoholic mixture, substitute some of the water with vodka)
Step-by-step Combine water and sugar in a heavy saucepan and bring to a boil. Lower heat and simmer sugar syrup for five minutes, making sure the sugar is completely dissolved.
Stir in the cranberries, orange rind and orange juice concentrate. Remove syrup mixture from heat and cool enough so that the mixture can be safely poured into a blender. Using the chop setting, pulse so that the berries are just slightly chopped. Allow the mixture to cool.
Add vodka and stir.
Pour into a large glass jar, cover and store in a cool, dark place for three weeks, stirring every few days. If this is made during the winter it can be stored in a cool place. If it is made in warm weather, store in the refrigerator.
After steeping for three weeks, strain the mixture several times using a mesh strainer or cheesecloth until the mixture comes out clear. Save the cranberries.
Pour liquid into glass jars. Cover and store liqueur and pulp in the refrigerator. Reserve the pulp for other great things!
*(If using frozen cranberries, reduce the amount of water.)
Yield
2 ½ to 3 cups liqueur. You can easily double or triple this recipe; I usually make enough to fill a gallon jar.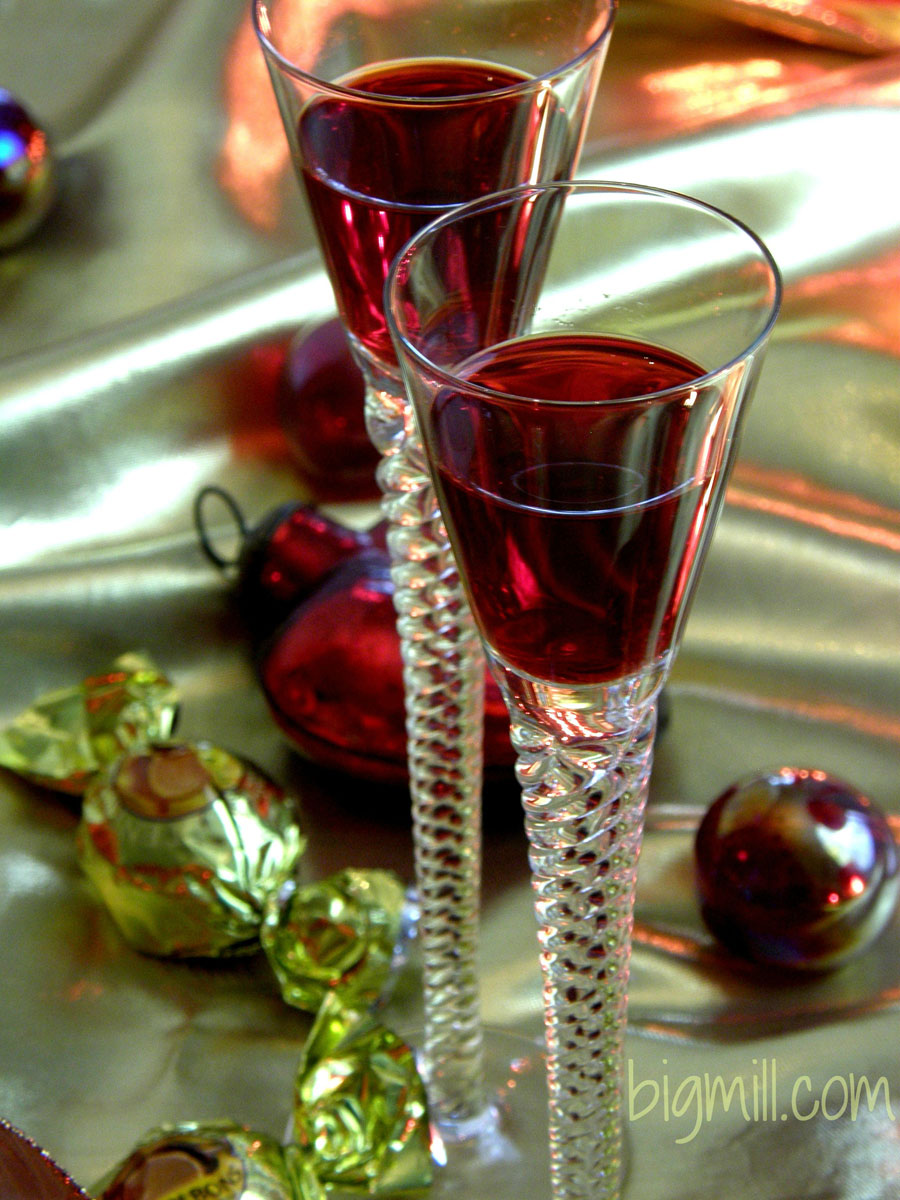 When cranberries are in season I try to use them any way possible: in Chloe's Granola, Cranberry Orange Bread and the coup de grace – Cranberry Liqueur.
This liqueur is an original recipe and it is a gorgeous, clear red, perfect for holiday entertaining. The soaked cranberries are a real treat; just remember that they pack a punch! They are good just like they are or as a topping for homemade sorbet or ice cream.