Ingredients
4 pints fresh blueberries
Zest and juice of 1 lemon
7 cups sugar
1/2 teaspoon butter, to reduce foaming (optional)
2 pouches liquid fruit pectin (6 ounces total)
Step-by-step
Fresh-picked, blueberries, with some of the berries not totally ripe make the best jam. So if you are able to pick your own and make the jam immediately, it will be worth it. My blueberries are growing right outside my kitchen window, so they are very fresh.
Put half of the berries in an enamel or stainless cooking pot and crush the berries, making juice. Stir in the remaining berries, the lemon zest and lemon juice. Add the sugar and butter and bring to a full rolling boil that cannot be stirred down. Pay careful attention to the pot. It will boil over in a heartbeat and you don't know what a mess is until you boil over blueberry jam.
While the berries are seriously boiling, quickly add the fruit pectin and stir for exactly one minute. Remove from heat and put in sterilized jars, following canning directions.
Yield
10 half pints plus a wee jar for tasting.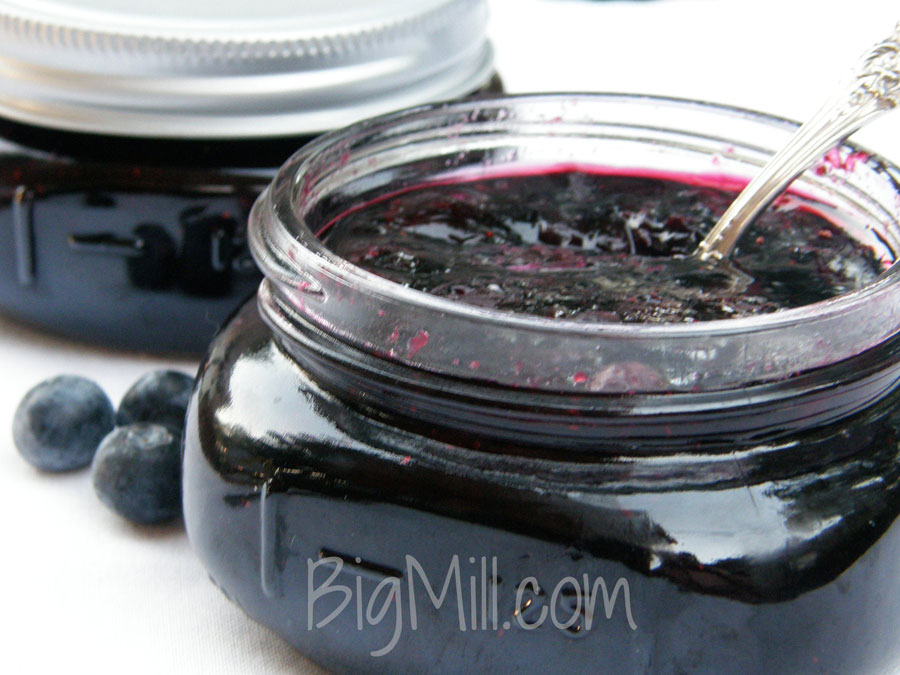 Blue Ribbon winner at the
Farm Heritage Fair
Canning blueberry jam like Grandmother did is easier than you think.
Important
Don't double the recipe! I don't know why, but it will fail. If Irma in The Joy of Cooking says, "Don't double," then I won't even try it.